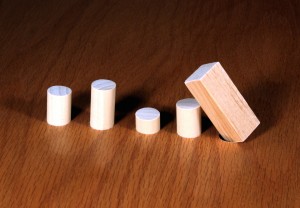 There is a computer repair business in the city of Sioux Falls called Craig Computer Service that is run by my good friend Craig Jurczewsky. I have been helping Craig with some of his marketing efforts off and on for the last six months. We worked on a wide variety of marketing strategies in order to attract new customers to his business. Social media marketing and advertising in the local paper worked quite well by making people aware of Craig's business. We expected Google AdWords and SEO to also drive more customers to his business, but they didn't. It turns out that there just weren't enough people searching for keywords like "computer repair" and "virus removal" in the city of Sioux Falls to drive a meaningful number of customers to his business.
Not every marketing channel is going to work for every business.
For any given business, some marketing channels will work much better than others. At MarketBeat, we can profitably invest an effectively unlimited amount of money at co-registration advertising and make a good return, but we have never been able to make Facebook or Twitter ads work. An e-commerce clothing store might kill it with Pinterest ads or Google Product Ads, but probably won't be able to profitably run ads on LinkedIn or make a return on investment with a direct mail campaign. When developing a marketing campaign, identify the channels where your customers are most likely to be and focus on those.
Google AdWords, Yahoo Gemini, SEO and other strategies that place your website in search results are an effective strategies for businesses that people already know that they need. If you're a plumber and rank first in Google for "Sioux Falls Plumber", you are going to get a meaningful amount of business because people use Google to search for a local plumber when they need one. The same would be true if you were a real-estate agent, a dentist, a heating and cooling repair service or an insurance agent. If people already know that your category of business exists and that they need your service, they will search for you in Google and will find your business if you rank well.
If you offer a unique product or service, your potential customers probably aren't going to know about your category of business and will never know to search for you. For example, an acquaintance of mine, Nathan Rueckert, creates art using old baseballs. While he makes very cool artwork, very few people would think "Hmm. I'd like some art made out of old baseballs on my wall. I'll do a Google search to see if anyone does that." Another example would be my friend Laura Jenson that offers horse-guided professional learning sessions. It's an interesting idea, but no one will ever think to search for "professional development with horses."
How to Promote Your Niche Business
When you have a unique, innovative or otherwise "nichey" business model, you can't just put your business in the search results and hope that someone will find you. You have to identify who your potential customers are and go out and tell them about your business.
First, you have to get a good understanding of your potential customer's demographics and psychographics. What gender are they? How old are they? What are their interests? Are they married? Are they homeowners or renters? What websites, magazines and books do they read? Try to come up with a complete picture of who your typical customer might be. Create a fictional character (called an audience avatar) that epitomizes your typical customer. Give the avatar a name, draw a picture of them and write down every piece of information someone might want to know about them. Creating an avatar gives you a much better idea of who you're marketing to and how to reach them.
Once you have a good idea of who your customers will be, you need to go out, find them and let them know about your business. This might mean that you find a list of potential customers and reach out to them directly using direct mail, cold calling or email marketing. It might also mean that you find a website or magazine that matches your target demographic and advertises to their audience. You have to figure out what media (magazines, websites, TV shows) your potential customers are already consuming or what organizations, groups or communities they are participating in and then use those existing media channels and communities to get in front of them through advertising or community participation.
Promoting Go Go Photo Contest, The Quintessential Niche Business
GoGo Photo Contest is an extremely niche business that has a total of about 5,000 potential customers in the entire world. The business helps animal shelters raise money by giving them a platform to run online photo contest fundraisers. If you operate an animal welfare group, you probably would never think to Google something like "online photo contest fundraiser for animal shelters." Our customers would never find out about us if we relied on AdWords or SEO exclusively.
Since the concept is unique, we have to educate our potential customers and let them know our service is something that they need. We do this by acquiring email lists for animal welfare groups and pitching them on running a photo contest. We send one email per month to them to avoid being spammy or overly intrusive and let them know about the features and benefits of running a GoGo Photo Contest. People come to our website and read our marketing content. If the service is right for them, they'll fill out a contact form. If it's not, they'll close the website, delete the email and go on with their day.
Marketing GoGo Photo Contest only works because we take the initiative to make our potential customers aware that our business exists and it's something that they need. If you work in a commodity industry like web design, carpet cleaning or HVAC service, go ahead and do an AdWords campaign and try to rank highly in Google. If you operate a niche business, go out and find your customers and make them aware of your business.