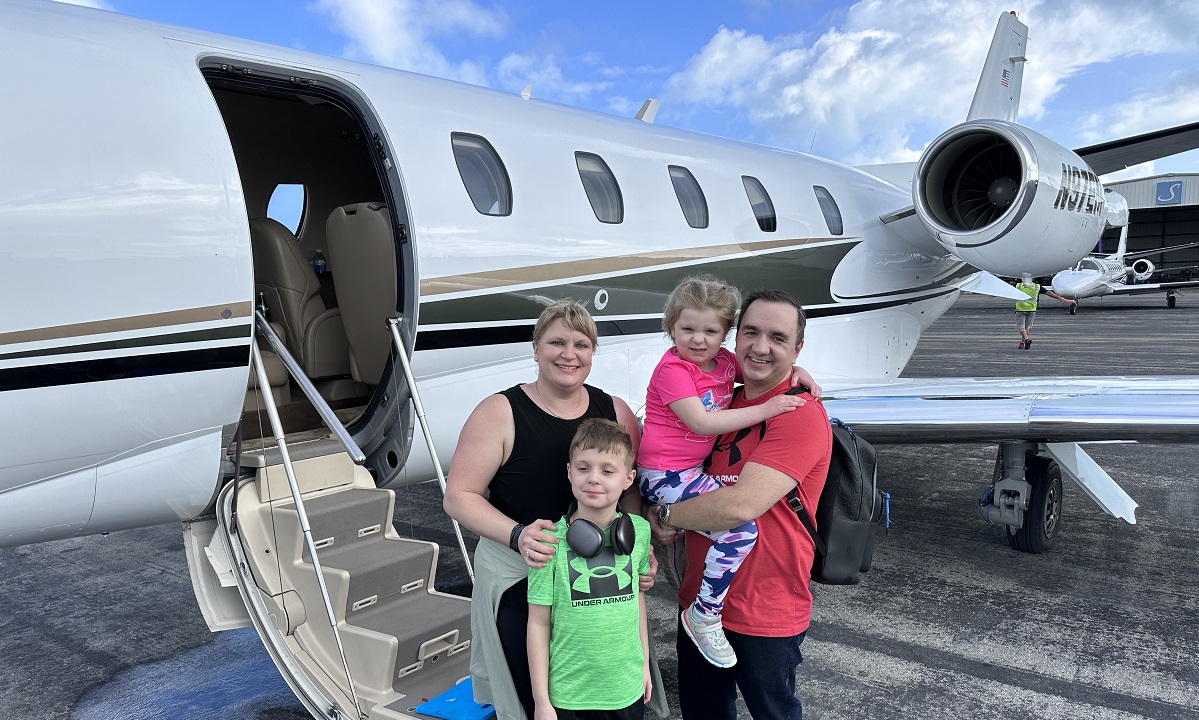 Crossing the finish line has been my theme for 2023 so far. Several business projects, such as MarketBeat's new office, are coming to fruition this year. Many of Cresten's commercial real estate projects that were started in 2020 and 2021 will be fully stabilized this year. Startup Sioux Falls' downtown transition is complete. I am also wrapping up my time as a board member with Sioux Falls Seminary next month, after having served on the board for eight years. One of my priorities this year is to create a little bit of professional breathing room that has been absent for the last couple of years due to taking on big new projects.
This quarterly update includes several fun personal and business updates, including a major new venture capital investment, a new philanthropic project that MarketBeat and DSU are partnering on, commercial real estate projects that are wrapping up, and much more.
Enter your email address below to receive a steady stream of tricks, tips and ideas to help you build a better and more profitable business.
Family and Work Travel
2023 has been a busy travel year already. In January, some members of our team went down to Jacksonville, Florida for a financial marketing event. Micah and I, along with a couple of friends, attended the WWE Royal Rumble in San Antonio. Karine, Micah, Ady, and I all went to Key West over President's Day weekend to enjoy some time on the beach. We have a family trip planned for Las Vegas in April and a work trip to Austin, TX later in April. MarketBeat may have a business trip to New York City to visit the NASDAQ team sometime in May, and I expect to schedule some kind of family trip soon after school gets out for the summer.
Venture Capital Investing Update
Homegrown Capital recently made an investment in Prismatic, A Sioux Falls-based B2B software company, as part of its $9 million Series A round. Prismatic's raise will likely be the second largest venture capital investment in the state this year, after Rapid City-based Property Meld's $15 million Series B round that was announced earlier this year. I had previously invested in Prismatic's seed round and continue to serve on the company's board of directors. We also made a new investment in SiteKick, a Minneapolis company that provides monitoring technology for construction sites.
In addition to the five investments that Homegrown Capital has closed on, we have two additional investments that are pending. Falls Angel Fund III continues to hear investment pitches as well and is about half-way through its current fund. Falls Angel Fund III will likely wrap up in the next 12 months and Homegrown Capital will likely start to work on its second fund in the next 18 to 24 months.
Commercial Real Estate Update
Many of the retail and multi-family projects that Cresten has started in the last couple of years are now coming to fruition. We have new units coming all the time at City's Edge, The MarQ, and The Brixx. We also just finished The Crimson, a mixed-use building that features 105 apartment units, an indoor swimming pool, and some space on the first floor for future retail development. Some of our newer projects, such as Prairie Towers (near 85th and Minnesota) and The Brett (85th and Brett) are also starting to take shape. We've had two new Starbucks' come online this year, including one near the Northwest Walmart and one across from Jefferson high school. We are also building a strip mall at Bakker Crossing in Tea that is filling up quickly.
We have been developing new real estate projects at a breakneck pace over the last few years. We saw the unique opportunity to finance projects at historically low interest rates and put as much in the ground as we could while rates were sub 4%. Now that interest rates have nearly doubled, you will see a substantial slowdown in new projects both from us and other real estate developers in the area. In an environment where a 5-year treasury is trading at nearly 4%, it just doesn't make sense to invest in real estate that is paying a 5-5.5% cap. rate. The risk isn't worth the reward.
Ultimately, Kevin and I are investors first and real estate developers second. We are going to put our new capital where we expect the highest risk-adjusted returns to be. We think there will be some compelling opportunities in private equity in the next 12-36 months and will likely sit on cash and other fixed-income investments until the right opportunity to invest in a venture-track startup or a cashflow-generating operating company arises. We love real estate long term, but there needs to be an adjustment in either interest rates or asset prices for it to make sense for us to pursue new projects.
MarketBeat Philanthropy Update
MarketBeat launched its new employee-led philanthropy program this year. Our first application window closed on February 15th. MarketBeat made a total of $20,000 in charitable contributions to community non-profits this quarter. Organizations that received funds from our philanthropy committee included the Toy Lending Library of South Dakota, The Banquet, Lutheran Social Services of South Dakota, Oaklyn Foundation, Leadership South Dakota, and McCrossan Boys Ranch.
We have another exciting community project that we will be announcing next week (finally). Unfortunately, the initial announcement was delayed by a couple of weeks, so that project won't make it in this quarterly update. It is something we have been working on since last Summer and will benefit kids and families in the Sioux Falls community.
Startup Sioux Falls Launches Downtown Facility
Startup Sioux Falls has finally moved into its new facility in the Milwaukee Freight Depot Building at 6th and Phillips Avenue in downtown Sioux Falls. The completed project has been well received both by members of the startup community and our institutional stakeholders as well. I was in the building a couple of Fridays ago for a meeting and there were more than 20 founders in the building working on their businesses. As the major sponsor of the project, I have been very encouraged by the use of the space so far. Brienne and her team have done a great job of getting the message out about both the facility and the organization.
While the launch of Startup Sioux Falls' new facility is the culmination of years of planning and hard work, it is also a new beginning in some ways. Now that our infrastructure is in place, the focus must shift toward expanding training services, networking opportunities, and other programming in the facility. This has already begun with a new CO.STARTERS cohort, the expansion of Startup Office Hours, and the launch of Founders Hour, which is the successor event to 1 Million Cups. I look forward to seeing how these offerings grow and evolve over time.
Sioux Falls CEO Summit

MarketBeat partnered with Jodi Schwan and SiouxFalls.Business to hold the first-ever community CEO summit in Sioux Falls. Our keynote speaker was Federal Reserve Bank of Minneapolis President Neel Kashkari. We had a healthcare panel featuring Avera CEO Bob Sutton and Sanford CEO Bill Gassen. We also had a panel of high-growth business owners that included Laura Benson, Founder of Filly Flair, Brandon Maddox, CEO of Silencer Central, and me. Finally, we had a panel of three young leaders in our community that were included on our "30 under 30" list.
Approximately 125 people attended the event, and it was well received by those that were there. We felt the content was solid but could have left some more time for networking in-between speakers. We had the event at Five Oaks, an event venue on the south side of town, and it worked well. We ordered too much food and not enough coffee. We also inadvertently missed a few CEOs that we should have sent invites out to. We plan to do the event again next year on February 28th, 2024. We plan to hold some smaller events with our "30 under 30" recipients on a quarterly basis to connect them with more established leaders in our community.
Other Public Speaking
As part of my goal to become a top-five business leader in the community, I have placed a renewed emphasis on public speaking this year. In addition to speaking at the Sioux Falls CEO summit, I spoke to a group of marketers at the TrenDigital summit in January. I also spoke at Dakota State's entrepreneurship day at the end of March. I will be doing a breakout session at the Capitalism Conference down in Austin, Texas later in April. Later this month, I will be able to share about a keynote speaking opportunity that I have been invited to do that will be later this year. If there is a group you would like me to speak to (of 50 or more people) or if you would like me to be a guest on a podcast, please let me know.
Introducing Risen Hope Baptist Church
Faith Baptist Fellowship West, the church plant that Karine and I have been a part of since 2018, is in the process of formally spinning out from Faith Baptist Fellowship and becoming a standalone church this year. The new name of the church is Risen Hope Baptist Church. Aside from the new name, it will be largely business as usual in terms of ministry, preaching, teaching, and worship. We anticipate getting formally accepted into our denomination (Converge Worldwide) this fall and becoming a separate entity for legal and financial purposes at the end of the year.
As the church treasurer, I have volunteered to take the lead on all the business aspects of becoming a standalone church. This means setting up a new legal entity, tax ID, bank account, credit card, accounting software, and an online giving platform. It also means updating a bunch of contracts, insurance, and recurring billing items. We have formed a small ministry team to handle this work, and it has been a joyful experience to be able to serve the church using some of my unique skills and expertise.
Wrapping Up Eight Years of Board Service with Sioux Falls Seminary
In 2009, I participated in a class put on by Sioux Falls Seminary for business leaders called Discipleship Sioux Falls. Each class was taught by a seminary professor and provided a topical overview of their area of study. I was enthralled by the content and registered to become a seminary student the following Spring. While I never intended to pursue full-time ministry, my seminary education helped me become a better leader and a more informed Christian. Fast forward three years later, and I graduated with a 64-credit hour Master of Arts in Christian Leadership from Sioux Falls Seminary.
Graduation was only the beginning of my experience with Sioux Falls Seminary. Within a month of graduating, I was asked to serve on a search committee to hire a new president for the seminary. This process led to the successful hire of Greg Henson in 2013, who has led a transformational effort to modernize theological education and make it more affordable for those going into ministry. Greg asked me to join the Seminary board in 2015, and I will hit my eight-year board term limit in May.
While I can take very little credit for what the seminary has accomplished in the last several years, the results have been astonishing. Sioux Falls Seminary partnered with several other schools to form a shared educational platform called Kairos University. The school dramatically reduced its debt load, increased enrollment to more than 1,000 students, and reduced the cost of tuition to $300.00 per month. This means that a student can graduate from an accredited seminary with a Master of Divinity (M.Div) for just over $10,000. For reference, the average cost of a M.Div degree is about $50,000 nationwide.
Sioux Falls Seminary has moved the needle and has made graduate theological education more affordable, accessible, and relevant. I am honored to be part of the organization's transformation over the last decade.
Wrap-Up.
That concludes this quarterly update. If you have made it this far and are still reading, consider connecting with me on LinkedIn. I am working to grow my presence on LinkedIn and plan to post more professional content there in the coming weeks and months.