I have recently gotten on a kick of watching videos of dead and dying malls on YouTube from creators like Dan Bell. These videos show highlights from when a given mall was at its peak and show how it has decayed over time. Some are even totally abandoned, filled with mold, and have collapsed ceilings. Each of these malls once had a grand opening filled with pomp and circumstance, giveaways, new and exciting stores, play areas, snack carts, rentable strollers, and vending machines. Now they are abandoned properties, waiting to be torn down so the land can be repurposed for another use.
These videos are a good reminder that over a long enough time horizon, everything trends toward zero. 150 years from now, you, everyone you know, and everything you have ever worked on will likely have disappeared from the earth. Some may find this reality depressing, but I find it freeing. Recognizing what little time we have on earth has caused me to waste less time, live more intentionally, more deeply embrace my Christian faith, be more generous, and focus on the things that I want to do "someday", right now. It also frees us from the idea that there is one right thing for us to pursue in life and that we can work on whatever brings us meaning and is beneficial to those around us.
Enter your email address below to receive a steady stream of tricks, tips and ideas to help you build a better and more profitable business.
Over the last couple of years, this understanding has really shifted my outlook on life. It has lessened my desire to start new businesses and build an empire to make a lot more money that I don't need, and instead has pushed me to spend more time with my wife and my children, pursue philanthropic projects, and try to make a positive impact on others. Ultimately, our legacy is not a big pile of money that we leave to charity when we die, it's the good that we do and the people that we impact in the here and the now.
That said, here's my quarterly update for the third quarter of 2023:
Family Travel
Karine and I had the opportunity to spend five days in Las Vegas with no children during the month of June. We stayed in the Chairman's Suite at the Bellagio and had a fantastic time. We plan on travelling to New York City later this summer so that we can see some sites together as a family. Karine has been wanting to visit the 9/11 Memorial and Micah and Ady really want to see the Statue of Liberty (although I'm not sure why). We are also planning a road trip to the Wisconsin Dells for a simple family vacation. I also have an overnight trip to Kansas City for a board meeting in July, and I would love to take the kids out to the hills or to Omaha for a couple of days this summer, too, if time permits.
Keynoting the YPN Crossroads Summit
The Greater Sioux Falls Chamber of Commerce announced in May that I will be one of two keynote speakers at the YPN Crossroads Summit this August. I pitched the Chamber's team last fall on having me present a keynote at their event geared toward young professionals in the community. My talk is titled "What Sioux Falls Whispers", which is a reference to Paul Graham's classic blog post, "Cities and Ambition." My keynote will discuss Sioux Falls core values as a city and how to leverage those core values to further your career and standing in the community. With an expected audience of about 500 young professionals, this will be the largest stage I have had the opportunity to speak on. I will post the full manuscript to my website after I give the talk.
I also had the opportunity to do a YPN "Seat at the Table" event in May where I told my entrepreneurial story to a group of young professionals. The event was sold out and hosted at the MarketBeat Theater at Startup Sioux Falls. I love opportunities to show young professionals how uncommon success can be possible if you put your time and attention in the right areas. I will be speaking at Innovation Expo later this year in Sioux Falls as well.
MarketBeat Expands Partnership with NASDAQ
MarketBeat has partnered with NASDAQ's data team for the last several years to provide MarketBeat subscribers with best-in-class financial data, such as company fundamentals, corporate actions, ESG data, and short interest data. This partnership expanded earlier this year when NASDAQ began to feature original MarketBeat content on its website, NASDAQ.com. This new partnership exposes NASDAQ's readers to unique market analysis written by MarketBeat's team of 15 writers and new editors. MarketBeat and NASDAQ celebrated their continued partnership in May, when members of our team traveled to New York City to participate in a NASDAQ closing bell ceremony. We had a great time visiting their team at the NASDAQ Tower and look forward to continuing to find new ways to partner with our friends at NASDAQ.
MarketBeat's New Office Takes Shape
The buildout of our new office in the Cherapa II building is starting to take shape. All the design elements have been finalized, and our tenant improvements began this Spring. Our new office will feature eight private offices, three meeting rooms, a full kitchen, a private deck, and a private gym. Our neon sign, espresso machine, and 500-gallon salt-water fish tank will be coming with us. We are also putting in a new mural and a few secret elements that I won't talk about online. We expect to move into our new office in early October and we'll try to have an open house before the end of the year. I recorded a video of what our new office looked like as of mid-May so that you can get a sense of what it will look like. You can see that above.
DSU and MarketBeat Announce Project with the Washington Pavilion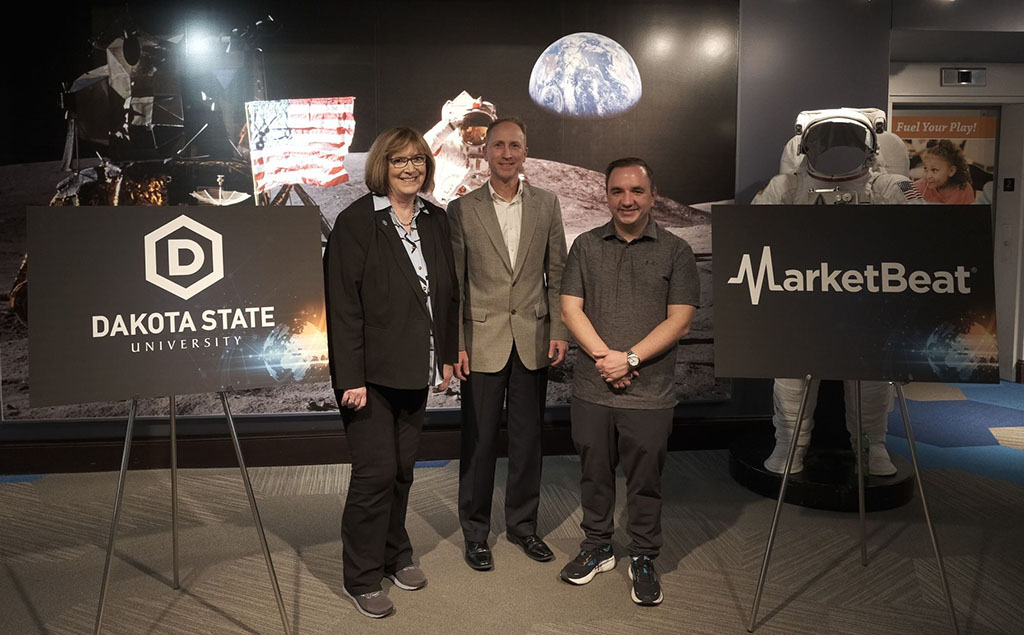 The Washington Pavilion, Dakota State University, and MarketBeat announced a new partnership in May that will provide $375,000 in new funding over the next three years to the Kirby Science Discovery Center. The funds will be used to completely revamp the space and technology floor of the science museum and provide children with opportunities to be exposed to science, technology, and space exploration. The new exhibits are being designed in 2023 and will be installed sometime in 2024. As regular customers of the Kirby Science Museum, Micah, Ady, and I can't wait to see these new exhibits take shape.
MarketBeat Makes Additional Philanthropic Investments
In addition to our project with the Washington Pavilion, MarketBeat has made several other philanthropic contributions this quarter. MarketBeat and Cresten Capital were the major sponsors of the Sioux Falls community fireworks show for the fourth year in a row. We also signed an agreement with Downtown Sioux Falls, Inc (DTSF) to expand the MarketBeat Holiday Plaza with some additional features this winter. I have agreed to co-chair a campaign that Downtown Rotary is conducting that will raise $250,000 for an accessible playground at Jacobson Plaza in downtown Sioux Falls, which will be ongoing throughout the rest of the summer and into the fall.  Finally, we made contributions to a variety of organizations, including Active Generations, AsOne, Enterprise Institute, Reach Literacy, Health Connect of South Dakota, Lunch is Served, Sioux Falls Zoo & Aquariaum, Family Visitation Center, Juneteenth Sioux Falls, Sioux Falls Stage & Gallery, Inc, and Face it Together.
If your non-profit or a non-profit you know would like to be considered for MarketBeat's philanthropy grant program next quarter, you can learn more about our charitable giving priorities at www.mattpaulson.com/philanthropy/. The best way to solicit a gift from either me or MarketBeat is to follow the process outlined on our philanthropy page. Because of the sheer volume of requests that I receive (several per week, every week), I am not able to respond directly to individual donation requests or meeting requests made over email or on social media.
Homegrown Capital Invests in Three More Startups
2023 has been a busy year for Homegrown Capital, the technology venture capital fund that Tim Weelborg and I run together. We made three investments in 2022, which was our first full year of operations. We have made four additional investments in 2023. I wrote about Prismatic's Series A round and our investment in SiteKick in my last update. New investments include School of Traditional Skills (a subscription-based educational platform), Sentinel Fertigation, and Thread (an industrial monitoring platform). I continue to serve on the boards of directors for Pitchly and Prismatic on behalf of Homegrown Capital.
We are on track to fully deploy our first fund by the end of 2024, which means we would likely launch a second fund sometime either in late 2024 or early 2025. Launching Homegrown Capital Fund 1 has been a great experience so far overall. It's been a lot of fun meeting with companies, learning about what they are hoping to do, and investing in the ones that we think have the best shot for long term success. I just wish I had more time to travel to different cities in the region to attend startup and V.C. invents so that I could meet with potential portfolio companies in person. Thankfully, Tim has been able to be our "boots on the ground" in Minneapolis, Des Moines, Omaha, and Fargo. When we get into our second fund, we will likely hire our first employee to help manage our funds and do admin work, so that Tim and I can focus on meeting with companies and evaluate potential investments.
Wrap-Up
This summer has been full of activity, both personal and professional. Given the short time we have on earth to make an impact, I wouldn't have it any other way. I want to live to the fullest, be present with my family, build the best business possible, and make a positive impact on those around me.